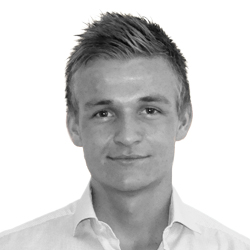 Hi, i'm
Peter Hamre!
ICT systems architect
Using amazing technology I define the architecture and requirements of custom solutions. I develop applications to enhance the efficiency of classic routine dominated operations helping companies to rethink and adopt the technology's opportunities. Daily managing the communication and development process between clients and developers at PANTEON.
PANTEON AS
An outsourcing company for development services. Through branch in Norway and developers in India, PANTEON offer technology engineers and project management. Our services targets SaaS platforms for long term projects handled by dedicated teams.
FOUNDED: 2014 | EMPLOYEES: 28 (2023) | REVENUE: NOK 30.000.000 (2023) | SHARES: 70%
www.panteon.no

KASSESERVICE AS
DUELL Logistics and Point Of Sale software and hardware supplier. Specializes in cloud-based solutions in specific industries like service industries, takeaway, restaurants and retail. One of very few providers that offers solutions custom to client's requirements.
FOUNDED: 2016 | EMPLOYEES: 13 (2023) | | REVENUE: NOK 25.000.000 (2023) | SHARES: 50%
www.kasseservice.no

TASKLINE AS
The company offer a brand new software to increase the control and efficiency for Norwegian accounting companies by handlings tasks, routines and storing of documentantion.
FOUNDED: 2020 | SHARES: 25%
KARTHEIA FEM AS
Property management and holding company for several sections in Kartheia 5, Kristiansand.
FOUNDED: 2017 | SHARES: 50%